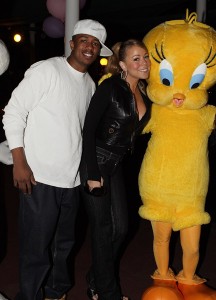 Life couldn't be any sweeter for entertainer Nick Cannon. He  has a new executive position at TeeNick as honorary chairman and development consultant and in just one month, he will be celebrating his one-year anniversary with singer Mariah Carey.  For Nick, the one-year has been so much fun.
"The great thing about [Mariah Carey] and one of the reasons I appreciate her so much is with her busy schedule and everything she has going on, she always has the time to support what I'm doing," Cannon says. "That's what a marriage and a union is really about. Outside of all of the fame and craziness, we just are best friends and have so much fun together and support. To have someone to bounce creative ideas off for 24/7 is amazing."
And the best friends plan on having a baby very soon.
"We're definitely moving towards that," Cannon says. "There were a couple of things you want to get established first. You want to enjoy each other for the first year, and we've traveled quite a bit."
He continues, "When you start a union, that has to be one of things that is on the forefront of your mind, but we're so busy with everything else. We love each other, so we're constantly in practice. We're going to let nature take its course, but the course is not a long one."