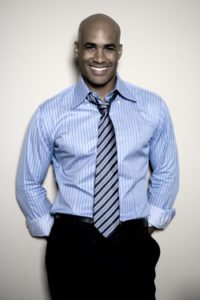 A loving husband:
"When I first met Nicole, I knew that she was going to be in my life forever — I just didn't know in what capacity," he shares. "But as we began to get to know each other, it just worked. And before people ask, no, we didn't date while we were on the set of Soul Food. We started dating two years after that. But, seriously, she's a very special woman that I love very much. Of course, we had to work out a few kinks along the way, but there's no place that I'd rather be than with her."
A Dedicated Father:
"I have come to realize that fatherhood is by far the single most important aspect of my life," he reveals. "Nobody tells you how scared you'll become once you're a father. Everybody talks about unconditional love, but nobody talks about the unconditional fear that you feel 24 hours a day when you have a child."
On his kids:
"The only thing that I can do for my kids is to love them unconditionally, to give them all of the attention that they need, and to instill a sense of confidence in them," he confesses. "That's all I'm there to do … nothing else. So that's the main focus of my life. Once I achieve that, then I'm good. My legacy is there, and I'll just be there to watch them grow, develop and spread their wings and fly. So, that's all I'm focused on."
On daughter Sophie:
"Sophie was born with spina bifida, which is a neural tube defect. It's something where the spinal cord develops and doesn't close all the way. So, a lot of kids who suffer from spina bifida have brain damage, motor function issues, they can't move their legs, and they don't have any sensations," he explains. "I thank God that my daughter was spared those more severe effects. She can't control her bladder [though] … We have to monitor the pressure in her bladder by catheterizing, which can be very [difficult for her] — it's just not a nice thing for a kid having to grow up being catheterized every three hours."
On being a father figure:
"I grew up in a single-parent household, as my father left when I was 6," he reveals. "So, my mother raised [me and my two siblings] by herself. She never tried to replace my father, though, and always told us how important it was to cultivate a relationship with him. So, we did. And she never stood in our way. She always supported that, and she always made sure that we communicated with our father even though he wasn't there physically. We understood that having a father figure is important for inspiration, for guidance, for support — especially for a young male. And I'm glad that I had that."
"Oftentimes, parents are young and don't know any better," he shares. "So, selfish choices are made and [the parents] forget that [life is] really about the kids. Children don't have as loud of a voice as we do, so it's up to us to look out for them."
Interview provided by RollingOut magazine
Don't Miss Out! Allow Notification Click Here..