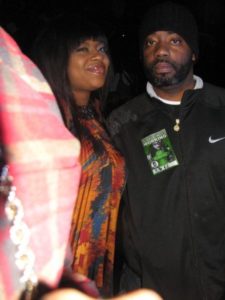 Singer Keyshia Cole's sister Neffe has confirmed to Sister2Sister that she is pregnant again after given birth to a baby boy just about a year ago.  She tells Sister2Sister magazine that her pregnancy was unexpected.
  "I'm pregnant and I got an attitude with [my fiance]  and i don't want him to … touch me right now—or ever because it was not supposed to happen this way. Now I'm trying to figure this [stuff] out, 'cause I just had Jaylen."
Jaylen is Neffe's youngest son, born just last year after the BET reality star decided to keep him in lieu of aborting.
 This baby will be the first for Neffe and her fiance Soullow. Neffe is already the mother of four children: Brianna, Christare, CiCi, and Jaylen. Rapper Soullow also has children from previous relationships.