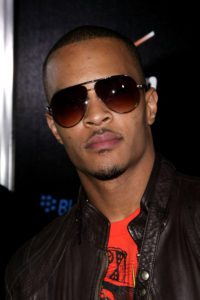 In  less than two weeks, rapper T.I will be sentenced for charges relating to his 2007 arrest for weapons possession. 
He says, "There's a date(March 27, 2009) set where I go for sentencing, but I'm not sure if that's the exact day I start my sentence."
As he prepares for jail, the rapper is careful to shield his children from anything negative surrounding his impending  incarceration, at least until it is confirmed what day he will be heading to prison.
"[The kids and I] had an initial conversation when the situation first came by. But I don't wanna continue to bring it up and bring it up until it's absolutely tied (confirmed), just so they don't have this negative grey cloud (hanging over them)."
T.I admits that his oldest children probably know everything there is to know about his situation. He says,  "Kids are extremely smart nowadays, they can probably tell me some things that I wouldn't know."
T.I. has six kids in all -three kids, named Domani, Messiah and Deyjah, from previous relationships, and sons King and Major with longterm girlfriend and former Xscape singer Tameka 'Tiny' Cottle; their third child together, a daughter named Llayah Amour, was stillborn, and a bonus daughter named Zonnique, Tiny's daughter from a previous relationship.
Rapper T.I, real name Clifford Harris, Jr., is facing a minimum of one year behind .