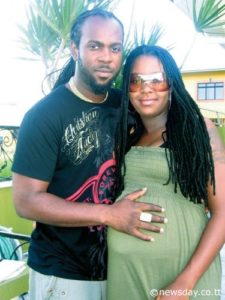 It's a girl for  2009 International Soca and Groovy Monarch Queen Faye-Ann Lyons Alvarez.  According to Trinidad and Tobago's News Day Online, Fay and her husband welcomed their baby via Cesarean on Saturday (Feb. 28).
The night before her delivery, Fay experienced some pains and was admitted to  Mount Hope Maternity Hospital in Trinidad shortly after. Doctors diagnosed Fay as suffering from mild pre-eclampsia/hypertension, a condition marked by high blood pressure. Mom and baby are now doing fine.
Alvarez  performed throughout her pregnancy and even won the 'People's Choice' award and the Road March title  recently held at  the 2009 Trinidad and Tobago Carnival.
Fay's  husband, Bunji Garlin" Alvarez,  is a  three-time International Power Soca  Monarch.