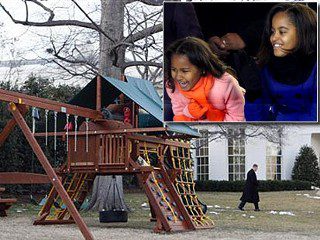 First daughters Malia,10, and Sasha,7, came home from school on Wednesday to find a new wooden swing set in their new home. While they were in school, the First Lady and President Obama installed the set on the south grounds of the White House near the Oval Office, where President Obama spends most of his time. So why a swing set? The Obamas thought it would make the girls "feel more at home" in the White House.
"Many first families have made these sorts of changes to make the White House feel like home," McCormick Lelyveld , a spokeswoman for Michelle Obama said. "This one is like their little mark."
Upon seeing the swing set, the girls screamed with delight. "They ran right for it. They were really, really excited. All four of them," said McCormick Lelyveld.