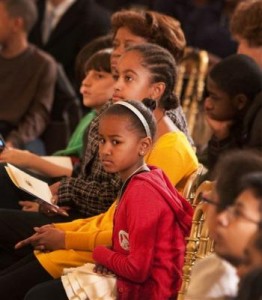 They may be the First daughters of the United States of America but not much has changed for Sasha and Malia Obama. When it comes to their "house" responsibilities, the First daughters have to follow the same rules as they did in their home in Chicago.
People reports that Malia, 10, and Sasha,7, make their own beds, clean their own rooms, and even clear their dishes in their new home, the White House. Not even their grandmother, Marian Robinson, is  allowed to assist the girls with their chores.
Their mother, Michelle Obama, has even asked the White House staff not to help out the young girls. "People want to make your life easy, and when you have small kids – I've explained this to the staff – they don't need their lives to be easy. They're kids," she says.
In related news, the girls will soon be getting a dog for all their hard work, as soon as April of this year! The Obama daughters will most likely be getting a rescued Portuguese Water dog.
"Temperamentally they're supposed to be pretty good," First Lady Obama said of the breed. "From the size perspective, they're sort of middle-of-the-road: It's not small, but it's not a huge dog. And the folks that we know who own them have raved about them. So that's where we're leaning."