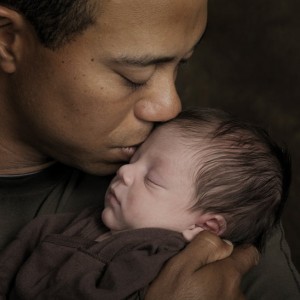 For 8 months , Pro Golfer Tiger Woods has been home nursing a knee injury. Although he admits that he "[misses] that rush of playing and competing" and that it has been "frustrating" not being able to play golf for eight months, Tiger says that his knee injury was a blessing in disguise.
"It was a blessing in disguise to have an opportunity just to see Sam grow that fast and that much," he said at a news conference Tuesday. "As players, you travel so much that I would have missed a lot of that, so I was very lucky there."
He adds: "I didn't realize how much I loved being home and being around Sam and E and now Charlie. I mean, I'll tell you what, that's something that is just so important to me."
As Tiger prepares to go back to work on Wednesday(he plays WGC Accenture Match Play Championship in Marana, Ariz.,)  at least he will have the memories of having so much fun " with his wife Elin, daughter Sam, 2, and newborn son Charlie Axel Woods.