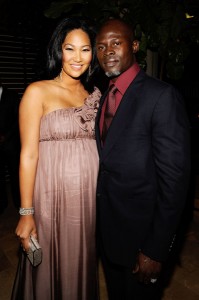 Actor Djimon Hounsou was rendered speechless when his girlfriend Kimora first told him he was to become a father.  Kimora Lee says that when she first told her beau of her pregnancy, he was in total disbelief.
She explains, "(When I told him), he was like, 'No!'"
Ever since that day of hearing the baby news, Djimon has been nothing but supportive, even occasionally indulging Kimora's unhealthy pizza cravings.
Find out more about Kimora's empire maternity dress(pictured)
 
Kimora is six months pregnant and is due to have a baby boy later this year.  This will be the first child for the couple and the third for Kimora who already has daughters Ming Lee, 9, and Aoki, 6.