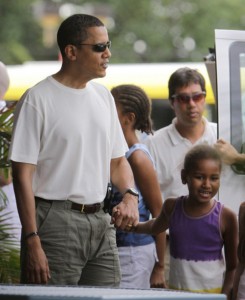 President Barack Obama and First Lady Obama took time out of their busy schedule to go watch their daughter Sasha,7, play basketball yesterday. Malia, Sasha's older sister, accompanied her parents to Kensington Parkwood Elementary School just before 2 p.m. on Saturday to watch Sasha play ball.
 In a recent television interview, President Obama reported that Sasha was taking up his favorite pass time:Basketball.
 "Sasha, you know — I think maybe to endear — myself to her, she — she decided she wanted to join a basketball team. So — what more could I want?"
There were indeed a handful a reporters that followed the Obamas around but all of them made sure to keep their distance.
No word on whether or not Sasha's team won the game.
Source(for original print)