"Now that I look back on my life, not all of my decisions were good, and now I'm paying for it," Henry said. "I just want to make good. … I want to take care of my children. I want to get my life back together."
On Thursday, former pro football player Travis Henry, the father of nine children by nine different women,  went back to court in an attempt to try to reduce child support payments for one of nine of his children that he fathered with a woman named Jameshia Beacham.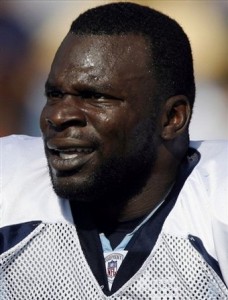 Henry is required by law to pay $3,000 a month to Jameisha, an amount which was set last year when Henry was employed as a running back for the Denver Broncos.
Now that Travis has been suspended from playing pro football because of his pending federal drug charges, he claims that he can not afford to pay $3,000 to the mother of his five-year-old son. 
Robert Wellon, the lawyer for Jameshia Beacham, argued on Thursday that Henry had made multiple withdrawals of up to $70,000 after he lost his job with the Broncos. When Wellon asked Henry why he had made those withdrawals, Henry refused to answer and said, "All those big withdrawals have to do with my [criminal] case."
Superior Court Judge Clarence Seeliger's  says that until Henry answers that question, he will not make a ruling on the case. Henry's attorney, lawyer Kessler, says that his client will comply the next time they are in court.
Source(for original print)