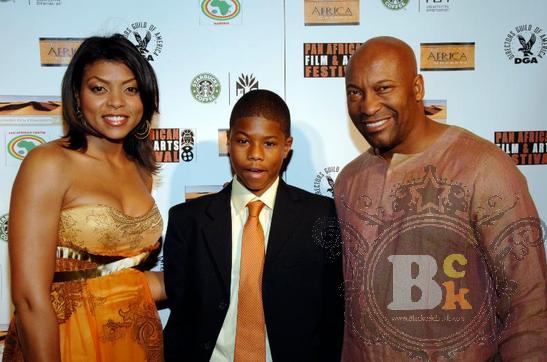 {Taraji, Marcel, actor John Singleton in 2008}
Oscar nominee Taraji P. Henson is a mom who cares. The single mom's caring nature seems to show up both onscreen and off screen. In her latest Oscar nominated role for movie the Curious Case of benjamin Buttons, Taraji plays the role of Queenie, a doting mom to her onscreen son, actor Brad Pitt.  The role of Queenie wasn't so far fetched for Taraji who is a mom "in real life."
"I am a mom in real life," she says. "Once a mom, always a mom. I try to mother my friends. It's like riding a bike: You never forget how to be a mom."
Taraji P. Henson is a mom (and dad) to her 14-year-old son Marcel, whose dad died in 2004.  When Taraji is not busy working, she finds time to take Marcel to basketball games and she even finds time to cook for him every morning!
"My son gets breakfast every morning. I don't buy cereal. Sometimes he wants scrambled eggs. Sometimes he'll have bacon. Or pancakes. He gets home-cooked meals every day," she says. "Even if I have a 5 a.m. call, I'll cook and leave his food in the microwave before I leave. You expect a child to succeed and do well in school, but how are they going to do that if they have no brain food?"
Now that's a mom who cares!