Here are some afternoon  links for you!
Octuplets mom, Nadya Suleman, launches her family website and asks for donations[thenadyasulemanfamily.com]
Salma Hayek Breast feeds a malnourished baby in Sierra Leone[HuffungtonPost]
Teen relationships Violence is on the rise[Momlogic]
Pastor Td Jakes' son arrested on account of lewd behavior[BET]
Arrests made in Nigerian baby poisoning[BBC]
FYI, if you're in the Scottsdale, Arizona area, then you are in for a pleasant treat! Clothing company(led by 50 cent's executive producer and former President of G-unit), along with Ronald Mcdonald's house and the NBA wives association are having a valentines day event for the entire family! And it's free! Click on invitation below.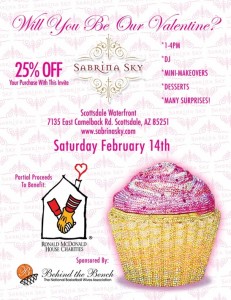 Check out Sabrinasky.com for more!