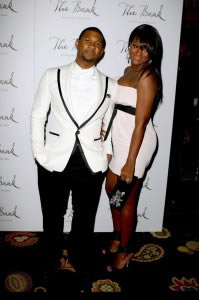 Updated on February 10th: Usher's wife, Tameka Foster, is recovering in a Brazilian hospital after suffering serious complications from a liposuction operation. Read More
Originally Posted on February 8th: According to AccessHollywood, singer Usher cancelled his Clive Davis' Pre-Grammy Award performance on Saturday due to a family emergency. As far as BCK knows, Usher's children are in good health. However, it is Usher's wife, Tameka Foster, who is reportedly ill due to cosmetic surgery:
Tameka [is] in Brazil and has experienced complications from plastic surgery. A neurosurgeon is on the way to South America.  A rep for Usher had no comment at this time.  Josh Groban will fill in for the R&B star at Davis' annual event.
Rumors allege that Tameka Foster's complications may be due to a tummy tuck. Tameka has two sons with singer Usher and recently gave birth to their second son Naviyd Ely Raymond.
Rumors that Tameka Foster has died have been denied by family members close to the family.