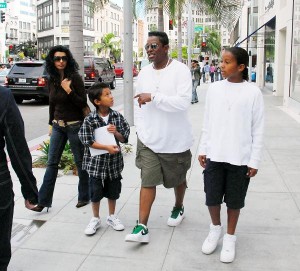 Singer Jermaine Jackson is seeking an amendment to his child support court-ordered agreement because he is no longer able to financially support his sons Jaafar and Jermajesty(pictured). According to TMZ.com, the Jackson 5 star claims  that on his current salary of $892.75 per month, he  can barely afford to buy groceries for his kids, let alone pay $3,000 per month in child support payments.
In a effort to seek an amendment, Jermaine has filed legal papers with the L.A. County court-house claiming that he has had a "significant change of circumstance" since 2007, when he received $450,000 to appear on the U.K. version of "Big Brother", and is therefore unable to pay $3,000 in child support payments to his ex-wife Alejandra Jackson. The $3,000 child support payments, Jermaine declares, were based on his "Big Brother" salary. 
Jermaine Jackson has five other children.