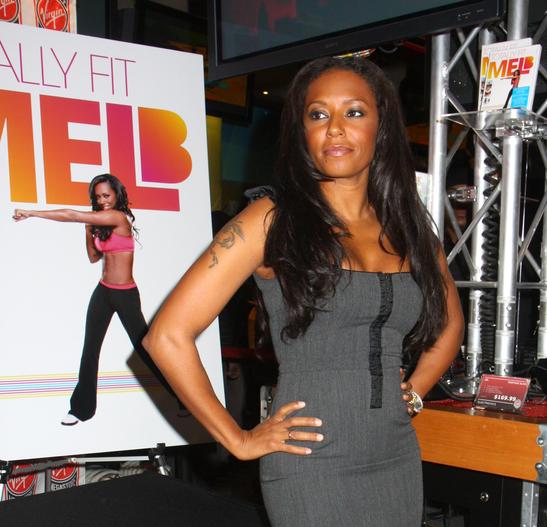 Singer Melanie Brown a.k.a Mel B is a totally fit mom and now she is sharing her work out secrets with everyone in her new workout video titled "Totally Fit Mel B". Although she is a busy mom of two, still Mel B finds time to exercise and she believes that every mom can find time to work out. In an interview with Chris Yandek, Mel B talks about how she does it all.
Chris Yandek: How do you find time to exercise, train, and have that totally fit body after having two kids?
Melanie Brown:I think it's partly because I am a Gemini. I like to switch things up every now and again and I get bored quick so I have to keep myself entertained. My DVD thing is my workout. I've been doing this on and off for the last eight years and especially since I had Angel. I really concentrate on a format that I know works. So if you keep on doing it, it works. Yeah. I guess I am just one of those people. It's all about balance as well. You have to have time with your kids, time for yourself, time for the husband to be able to function in life and get the best out of yourself so, so far so good. I am not doing too bad with balancing the whole juggling act between everything. I really enjoy everything I do as well luckily."

CY: What advice can you give to fellow moms? Any secrets? Anything in particular?
MB: "Well, I do my workout when my two-year-old goes down for a two hour nap. So I come and workout. I also stick my crock pot on – put a load of vegetables and chicken and let that do itself and cooking for four hours and then feeds my family for the next two days or so. It's all about time management and what is quick, easy, and healthy and keep it consistent. I do my workout two or three times a week whether it be by myself or my girlfriends come over and do it with me. It keeps me motivated cause I don't want to slack off. I also drink a good amount of water. I know it's hard for people to get drinking water cause I was not a water drinker before I discovered this great workout aqua hydrate, which is brilliant. It's got trace minerals, it's got electrolytes, everything you could possibly want and it's good for hangovers. (Laughs.)"

CY: Is it true that you've been offered your own workout TV show with this buzz on this DVD? Is it true Melanie is going to get more involved in the fitness world and be a role model?
MB: "I would love to do that because it's something I am passionate about and do day in and day out and have done for a long time. I hopefully know how to get people motivated and get into that totally fit lifestyle because it isn't just doing a workout here and there or eating healthy here and there. It's about being consistent but also giving your body a break and having your cheat day once a week and vegging out and being good to yourself at the same time. But yeah, I'd definitely like to become some kind of a role model if I can squeeze myself in there to the fitness world because I know what I do works and if I can spread that around to as many people as possible then I am doing my bit."
CY:How do you handle all the projects?
MB: "(Laughs.) I just make sure I have time to recuperate each day. I make sure that I get to do my workout. I make sure I get to spend time with my kids every day. I am not the kind of person to stay home all day every day. Obviously I have days where I don't want to leave the house and I just like chilling at home but I am all about being active and I am 33-years-old and I am not yet ready to retire and live the quiet life. With kids as well you're constantly kind of on the go whether it be play dates, whether it be going to Disneyland or taking the kids to the park. You're constantly out there doing stuff."
CY: Why should people get the DVD?
MB: "Well, I know it works. The minute you stick that DVD in there and get doing it two to three times a week by yourself, when your kids are napping, or a group of friends you'll start to see changes. Give yourself at least a good four to six weeks to really start seeing changes especially if you start eating healthy and getting your body good and drink lots of aqua hydrate. That's my point. Good luck!"
Click Here to hear the entire interview.