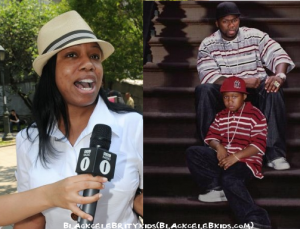 Via TMZ:50 Cent's baby mama won't be able to take half his [money], a judge just ruled in New York.
A Supreme Court judge just dismissed Shaniqua Tompkins' claim to half the rapper's assets, which she had estimated at $50 million. Tompkins is the mama of Fitty's 11-year-old son.
The judge said in her judgment the relationship was "an unfortunate tale of a love relationship gone sour." Both sides had filed memorable affidavits detailing their pillow talk — she claimed 50 promised to take care of her "for life."
Didn't work for Babymama, but her lawyer says he could file an appeal.
Brett Kimmel, 50 Cent's attorney, tells TMZ, "Ms. Tompkins's claims pertaining to a $50 million verbal contract were entirely frivolous. In dismissing the case before trial, the court is sending a clear message. This is a complete and total victory for 50." 50 himself added, "I'm very thankful for this decision. I knew that once the facts were heard that justice would prevail. I hope now that we can put this behind us and move forward with our lives."