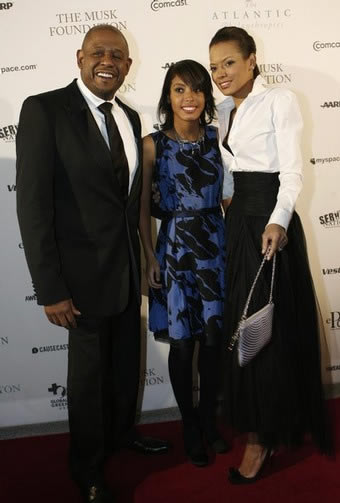 Keisha Whitaker, wife of actor Forest Whitaker, has shared her Inauguration week experiences with Momlogic. The mom of four tells momlogic.com that she and her family braved the cold weather to attend Inauguration festivities. From Pre-inauguration balls(pictured  to left are Forest, Autumn, and Keisha at the Huffington Post Pre-Inauguration ball On January 19th) to Inauguration concerts, Keisha and her family attended most of the inauguration festivities and they even met the First Family! Read below as Keisha recounts her experiences on Inauguration day(January 20th)
On the morning of the Inaguaration, we all woke early and were eager to get going — and as everyone knows by now it was freezing!!
We decided to dress up for the occasion (something I half regretted), BUT we were excited and proud.
Clad in our trenchcoats, handwarmers, footwarmers, hats, gloves, scarves and Thermacares (Yes, I wrapped their bodies in heated pads used for back pain). It was that cold!!

Our driver Vincent got as close to the Capitol as possible, but it was still about a mile and a half away so we trudged along with people from everywhere. We saw friends walking in the crowd — and made new ones!!! The ENERGY was amazing and buzzing all around us. There were people as far as the eye can see. When we got to our seats, we turned around and looked behind us and — my goodness — it was a BEAUTIFUL SEA of people of all ethnicities waving flags in the air … It was so breathtaking I actually gasped.
When the swearing in ceremony began, I felt warm despite the weather. We have a ritual we do as a family when we are having an experience — whether it's a delicious meal, a walk on the beach — we take a moment and breathe in and SAY we were all here together. At this moment we were there all together watching the Inauguration of the 44th President of the United States Barack Obama. We all took a deep breath in and let the moment sink in to our bodies, soul and spirit.
We watched President Obama get sworn in along with the rest of the world. At that moment on that lawn I hugged my family and strangers. We all wept tears of complete and utter joy and happiness!!
I will never forget that feeling in the air and the looks on all of the faces in the crowd — the expressions of relief and hope. That day those moments prove my theory that LIFE IS ENDLESS POSSIBILITIES!!!
Forest Whitaker and his wife have four children: two daughters together (Sonnet,12, and True,10);Forest has a son named Ocean,19, from a previous relationship, and Keisha's daughter Autumn,17,is from a previous relationship.