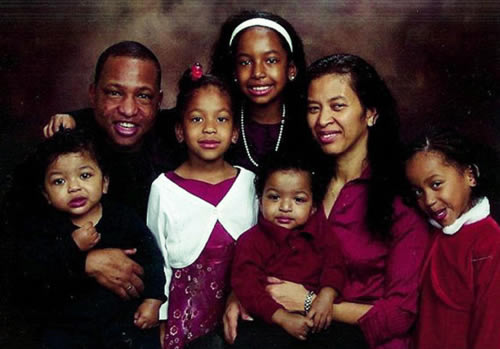 A man in California has killed his entire family and he claims that he and his wife planned the slayings, but police officers don't believe him.
VIA CTV:
In one upstairs bedroom, the bodies of twin 2-year-old boys were found beside their dead mother. In another bedroom, 5-year-old twin girls and their 8-year-old sister lay next to their lifeless father.
Officers discovered the horrific scene after rushing to a home in Wilmington, prompted by the father's distraught letter faxed to a TV station describing a "tragic story" and a call to authorities.
Police believe Ervin Lupoe, 40, killed his five children and his wife before turning the gun on himself. Both adults were recently fired from their hospital jobs.
"Why leave our children in someone else's hands?" Lupoe wrote in his letter faxed to KABC-TV. The station posted the letter on its Web site with some parts redacted.
The station called police after receiving the fax, and a police dispatch center also received a phone call from a man who stated, "I just returned home and my whole family's been shot." Police are unsure who the male caller was, but they suspect it was the father.Officers rushed to the home in Wilmington, a small community between the ports of Los Angeles and Long Beach, about 8:30 a.m. Tuesday and found the bodies.All the victims were shot in the head, some multiple times, coroner's Assistant Chief Ed Winter said. The killings may have occurred between Monday evening and early Tuesday, based on neighbours' accounts of firecracker sounds, he said.Although the fax — addressed to "whom it may concern" and explaining "why we are dead" — asserted that the wife, Ana Lupoe, planned the killings of the whole family, police Lt. John Romero said Ervin Lupoe was the suspect. A revolver was found next to his body.