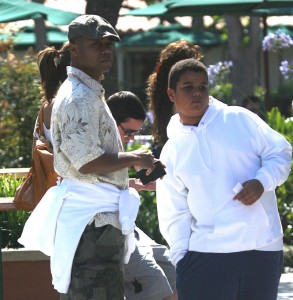 Actor Cuba Gooding Jr recently revealed on "The tonight show with Jay Leno" that his 14-year-old son Spencer is a bit of a daredevil. Cuba, whose house has a trampoline, boxing ring, batting cage and a hockey rink, was the center of Spencer's daredevil antics.
One day young Spencer thought it would be fun to do back flips on a trampoline, while with his roller blades on ! Needless to say, Spencer ended up in a hospital with a broken arm and blood in his urine.
Spencer's doctor became concerned and questioned Cuba about the incident, to which Cuba had to take out a videotape showing evidence of Spencer's antics.
Cuba explained: "The doctor said, 'What's going on? He's got a broken arm and he's urinating blood. You're beating the hell out of this kid.' I said, 'No, no, no. Cut to the tape.'
"So I put the tape in, and there he was on the trampoline, doing back flips with his roller blades on, and a cast. I said, 'I got you on tape, man! That's' right! Because you know I love you and everything, but they aren't putting me in jail!' "
Watch the entire episode with Cuba (43 mins)