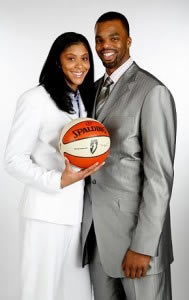 WNBA player, Candace Parker, is at home happily awaiting for the birth of her first child with husband, Sacramento Kings basketball player Shelden Williams.  The 22 year-old- mom-to-be says that although she will miss part of the Sparks seasons(season begins in May), she is nonetheless preparing for her come back.
"I want to come back and play this season and contribute," Parker said. "That's my goal. But not everything is in my control. I'm doing everything in my power to be ready to play as quickly as possible. I'm doing light elliptical training; I'm doing light, light weights. I really have been having an easy time of it. This hasn't taken a huge toll on me."
Meanwhile, Parker and her beau are happy to be expanding their family.
"First and foremost this is a great thing for my family," she said. "I'm excited to be expanding my family. So is my husband…some things are better if you do them for yourself when you feel it's right," she said. "Obviously there are some naysayers out there but that only motivates me to come back quicker and better if that's possible."
Parker adds,
"When I was growing up, I had older parents and I missed out on their careers. My older brother knew my dad as a professional and I'd like to give that gift to my child."