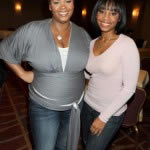 In a candid interview with Essence.com, songstress Jill Scott reveals that she never thought that she would get pregnant. Read more below about Jill's "miracle baby"
ESSENCE: Congrats, Ms. Scott! We are so happy for you. What was your gut reaction when you learned you were pregnant?
JILL SCOTT: Shock. I didn't think it was possible for me to have kids because I was told I couldn't conceive. I had given up hope of becoming a mother one day.
ESSENCE: What a blessing—a miracle baby! After you got over the shock where did you stand emotionally?
SCOTT: I had to slow down because after I found out, I was supposed to leave for Africa the next day. I called my doctor and talked about what I needed to do, what I couldn't do and what I could do. I was just trying to take as many precautions and be as knowledgeable as I possibly could. Quite frankly, I was freaked out and everyone was asking me, "What are you going to do?" My agent was distraught, but it wasn't about anybody else other than me finding out if the baby was going to be okay, so that's what I did first—slow down.
ESSENCE: Is that the sole reason that you chose to prolong the news?
SCOTT: Well, yes, that was a large part of it. Because I'm 36 and considered a high risk for pregnancy, I wanted to make sure that everything was okay. My closest friends and family knew and that was enough for me. Oddly enough, as pregnant as I am, I didn't have time to enjoy my pregnancy because I was working in Botswana for four and a half months playing someone else. It was a lot of hard work, and I'm not tripping about it because it was a wonderful opportunity and experience. So right now I'm chillin'— enjoying looking at cribs, mobiles, growing and finding maternity clothes and sleeping (laughs.)

ESSENCE: So have you chosen a name yet?
SCOTT: (Chuckles.) Yes, but we want the baby to be the first to hear it.

ESSENCE: We can respect that. Are you having a boy or a girl?
SCOTT: A boy. He will make his grand entrance mid-April.

ESSENCE: Now you'll have two men around the house to take care of you. Your fiancé and drummer, Lil Jon Roberts, must be thinking, "I'm the Man!"
SCOTT: (Laughs.)We're in the same place as far as just the initial shock and just feeling so blessed to be having this child. But yeah, that would make him "The Man" to do what can be done. It's funny because I remember one day I was feeling a little down and I said to my girlfriend, "I guess I've missed my opportunity to be a mom," and she responded, "No, you just haven't met the right man yet." I've always believed that everything on this earth has a rightful key that fits and he was mine.
ESSENCE: Now, Ms. Jill, that's another song right there—"Right Key" or maybe the new version to "Padlock to My Heart." So what kind of cravings are you having and which of your favorite foods can you no longer stomach?
SCOTT: (Laughs.) I craved salty foods. I used to eat mustard, olives and pickles all together in a sandwich. Now I don't want anything. I'm having a hard time building an appetite. I have to force myself to eat. I just can't figure out what I want. I'll have a taste for something, make it and then be like, Nah, I don't think so. I'm real difficult right now.
ESSENCE: So do you and Mr. Roberts plan to get hitched after the baby arrives?
SCOTT: No, there's just so much happening. We didn't plan for this, but God obviously had other plans. We planned to enjoy ourselves and maybe try the endometriosis treatment thing [which can enhance fertility] and try to start a family.
ESSENCE: They say if you want to make God laugh, tell Him your plans. What have you enjoyed most about wearing motherhood?
SCOTT: You know, I've had to take a dose of the "big girl" pill in many different areas. What I mean by that is, for so long I've been able to be carefree—frolicking in my life. I didn't have to be responsible for anyone else but myself, my mother and my grandmother. I've been free to do what I want, when I want. Now I have to watch what I eat, how I eat, make sure I get enough rest. Before I was just running and now, I'm so much more responsible and thoughtful and that's a good thing.