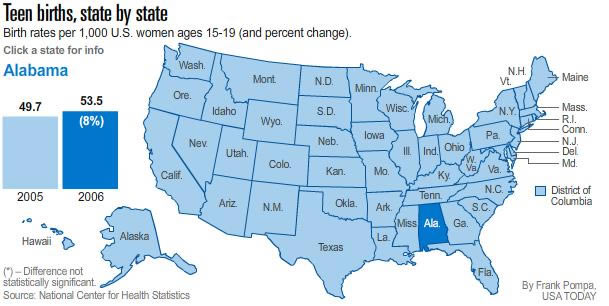 New data shows that there is an increase in teen birth rates in 26 states. The data not only ndicates that there is an increase in the number of teens having babies, but also show the rate at which the teenagers are having babies.
The federal data — largely from birth certificates — shows widespread statistically significant increases for 2006, the most recent year for which data are available. In the two previous years — from 2004 to 2005 and from 2003 to 2004 — only one state in each year (Tennessee and South Dakota) had a significant increase.
These state-by-state breakdowns add to previously released data from the national center that complete the picture for 2006, a year in which the general fertility rate hit its highest level since 1971 and one that ended a 34% drop in births among women ages 15-19 from 1991 to 2005. In 2006, the teen birth rate increased 3%, to 41.9 births per 1,000 women ages 15-19.

"It occurred among teens 15-17 and 18-19 and among whites, blacks and Hispanics, and now we know it occurred in most of the states," says Moore, who has tracked teen births for 30 years. "It appears to be quite a general pattern, which makes me think it might not be a blip but a turn-around."
The highest teen birth rates are in the South and Southwest; Mississippi is highest with 68.4 per 1,000, followed by New Mexico, with a rate of 64.1 and Texas, with 63.1. The lowest rates are in the Northeast. New Hampshire had the fewest teen births with 18.7 per 1,000. Vermont, with 20.8 per 1,000, and Massachusetts, with 21.3 per 1,000, were also low. Decreases were noted in New York, North Dakota, Rhode Island and the District of Columbia.