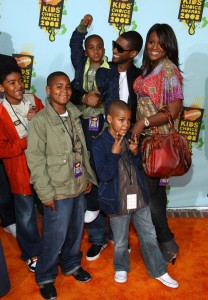 As told by People.com:
After the [We Are One: The Obama Inaugural Celebration ]on Sunday, Usher, his wife Tameka Foster, and her sons Ryan, 9, and Kyle, 7, snapped photos with Michelle Obama, and her daughters, Malia, 10, and Sasha, 7. (Usher and Tameka's two young sons, Usher Raymond V, 2, and 1-month-old Naveid Ely Raymond weren't there because "It's too cold here," says Foster.)
Turns out, both Usher and his wife had a little matchmaking on the brain.
"Based off of what I know about Michelle and what I've seen from Barack, Sasha and Malia are going to grow up to be two incredible, beautiful young ladies," says Usher, adding with a grin, "that my sons will marry!"