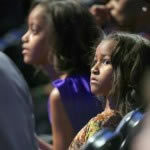 While their parents were out attending several inauguration balls last night, Malia,10, and Sasha,7, spent the night in their new home, the White House.  The sisters participated in a number of fun activities with their friends; in addition, the Obama girls got a surprise visit from their favorite band. The Jonas brothers, of course!
Via ABCnews
The visit came after Malia, Sasha, and some of their friends from their new school Sidwell Friends saw two new Disney movies — High School Musical 3 and Bolt — and participated in a scavenger hunt in which they ran around their new home, learning about this history of the White House. White House ushers had organized a similar scavenger hunt for a young Chelsea Clinton when she first moved into the White House in 1993.
At the end of Malia and Sasha's scavenger late-night hunt, they opened a door to discover their favorite musical performers: Kevin, Joe, and Nick Jonas — the pop boy band sensation who first exploded on the Disney Channel and also appeared earlier this week at the Kids' Inaugural Concert.
If you haven't seen how excited the girls get around the Jonas brothers, then Click Here to find out.