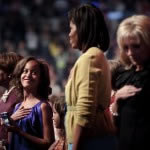 Malia is pictured with her mother Michelle Obama  during the We Are The Future kids Ball on  January 19, 2009. The first daughters were front row center as they were entertained by teen stars Miley Cyrus and the Jonas brothers, to name a few.  Something tells BCK that The Obama girls may love the Jonas brothers a little bit more than they love Miley Cyrus. Judge for yourself.
Watch Now as the Obama girls(mom included) dance(yes dance) while the Jonas brothers perform a crowd favorite, song "Tonight"(a must see!) 
Watch Now as the Obama girls watch Miley Cyrus' performance.
 (Photo by Brendan Smialowski/Getty Images)