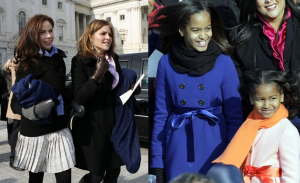 Jenna and Barbara Bush, daughters of former President George W. Bush, are offering advice to First daughters Malia,10, and Sasha,7, Obama. In a letter published in the Wall Street Journal today, the Bush twins offer tips on how to "play House in the White House":  
— Surround yourself with loyal friends. They'll protect and calm you and join in on some of the fun, and appreciate the history.
— If you're traveling with your parents over Halloween, don't let it stop you from doing what you would normally do. Dress up in some imaginative, elaborate costume (if you are like us a pack of Juicy Fruit and a Vampiress) and trick-or-treat down the plane aisle.
— If you ever need a hug, go find Ramsey. If you want to talk football, look for Buddy. And, if you just need a smile, look for "Smiley."
— And, a note on White House puppies–our sweet puppy Spot was nursed on the lawn of the White House. And then of course, there's Barney, who most recently bit a reporter. Cherish your animals because sometimes you'll need the quiet comfort that only animals can provide.
— Slide down the banister of the solarium, go to T-ball games, have swimming parties, and play Sardines on the White House lawn. Have fun and enjoy your childhood in such a magical place to live and play.
— When your dad throws out the first pitch for the Yankees, go to the game.
— In fact, go to anything and everything you possibly can: the Kennedy Center for theater, State Dinners, Christmas parties (the White House staff party is our favorite!), museum openings, arrival ceremonies, and walks around the monuments. Just go. Four years goes by so fast, so absorb it all, enjoy it all!
The Bush daughters most important advice? "remember who your dad really is."
Click Here to read more.