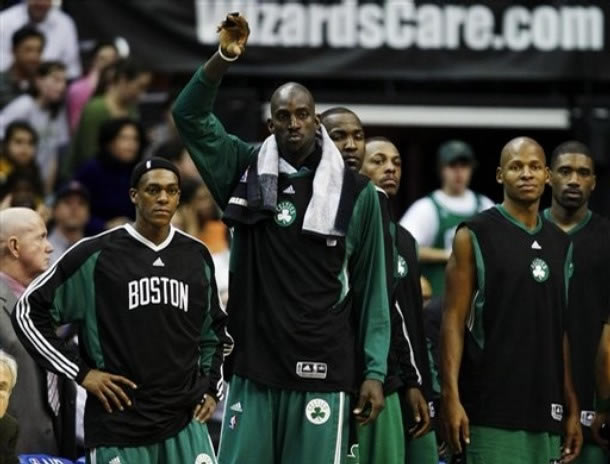 [From left to right, Rajon Rondo, Kevin Garnett, Kendrick Perkins, Paul Pierce, and Leon Powe]
In 2008 nearly half of the Boston Celtics were impacted by fatherhood. Powe, Kevin Garnett, Paul Pierce, Kendrick Perkins, Rajon Rondo were just a few players who became fathers last year. Below are a few quotes from the team mates about the responsibilities of being a father.
"It's a totally different feeling," Pierce said. "You have a sense of amazement, like, look this is something that you created, your daughter, this is for life. It's like, (pauses) it's the most amazing thing I've ever seen in my life. In basketball winning a championship is one of the most amazing things that ever happened to me, so it's hard. I can't put them on the same level because to watch a child be born, it's unreal to me."
"When you have a kid, it makes your intensity go up," said Powe, whose first son, Leon Powe III, was born in January. "You want to go out there and play hard, play extra hard. I've got a lot of extra [energy] brewing up in me because I'm just so excited that I've got a kid and somebody I can look after."
"Now you're working to feed another mouth. It kind of makes you go that much more harder because you want to make sure he's secure in his future and his kids are secure," he said. "[My focus has] changed a lot, on and off the court, and the way I've been approaching the game with a great mental focus. It helped me a lot."~Perkins on the birth of Kendrick Perkins Jr. in September of 2007.
"No matter how I play she's always smiling," Rondo said of his daughter Ryelle. "I can go 0-for-28 in two games and when I go home, it's a different feeling. It's a feeling that is difficult for many to put into words. It goes beyond the feeling of Celtic Pride. Fatherly Pride is the most powerful of all."~
Source; Thanks to reader Suz