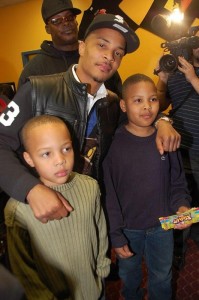 Rapper T.i. headed back to court yesterday to face off with the mother of two of his six children, Lashon Dixon.
"My children are still the number one thing," said T.I. after a Tuesday court hearing. "They're the most important thing in my life and they are what I work for."
"Basketball camp, acting lessons., anything," said T.I.'s lawyer John Mayoue.
But T.I.'s ex-girlfriend insists their seven and eight-year-old deserve more. Lawyers for the multi-million dollar artist say T.I. now pays more than $6,000 a month in child support for private schools, tutors, and medical insurance for the children he fathered with Dixon. T.I.'s ex wants as much as $10,000 a month. She says the children T.I. fathered with other women,the ones that live with him, enjoy a much more lavish life style, and LaShon Dixon says that should be fixed.
"So it's not so uneven and noticable between the children," LaShon testified. "Not so noticable that it's different."
T.I. says that he would like to have all six of his children live with him so they can all share in his musical success daily.
"We don't live together and have not in ten years," T.I. testified at the hearing "That's something we both have to grab ahold of.
"I think the children's different standard of living with her is due to her lifestyle that she has provided for herself," said T.I.
Judge Tipton Lane has not yet made a ruling in the case.
FreddyO Picture