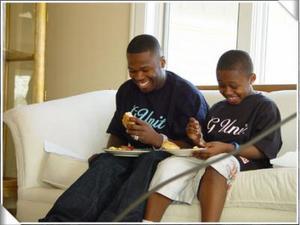 Rapper 50 cent keeps himself busy these days. The hip-hop mogul just finished filming for a movie called, 13, due out in 2010, followed by his album Before I Self Destruct, due out in March. In addition, the rap mogul has been promoting his latest video game called 50 Cent: Blood on the Sand, which comes out Feb. 24. 50 says this about his video game:
It's like being in an action film that you can actually control," he says. I think the game is going to be really exciting, and people are going to be blown away by the increase in quality.
When he is not busy with his many projects, 50 Cent finds time to play video games with his son Marquise, 12.
He's better than me. I don't know how this is happening. He just whips me repeatedly. I'd rather play (the game myself) before I even let him see it. Then, for a little while, it will be exciting because I will be beating him. We talk while we play. He says things like I would say and I'm, 'You're not supposed to say that, I'm supposed to say that.'