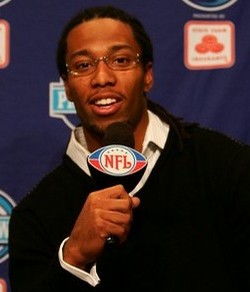 According to TMZ, NFL player Larry Fitzgerald, wide receiver for the Arizona Cardinals, has been ordered to stay away from his baby's mother, Angela Nazario, as well as his 11-month-old son:
Angela Nazario claims she brought the couple's son to visit Larry at his Phoenix home last October when the former lovers began arguing.Nazario alleges in her legal papers filed in Arizona, Fitzgerald attempted to "diffuse the situation" by raising his fist and challenging her to a play fight. Nazario admits she responded by swinging at him and "may have hit his face."
Fitzgerald then turned from playful to enraged, allegedly pushing Nazario down to her knees. She claims he "grabbed me by my hair with both hands on the back of my head very very hard and tossed me across the room."
Later, when she tried to leave with her son, Nazario says Fitzgerald "grabbed the back of my neck and slammed me down on the marble floor … [I] was disoriented for awhile and could not get up, I remember he mumbled something about 'that's what happens when you try taking my son away from me.'" As she got in the car to leave she realized she had lost "chunks" of hair.
Calls to Fitzgerald have not been returned.
Ap Photo