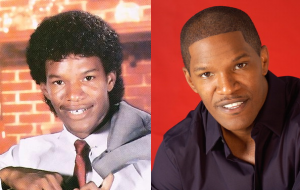 Born:  Eric Marlon Bishop
Professional Name: Jamie Foxx
Date of Birth: December 13th, 1967
Claim to Fame:best known for his portrayal of musician Ray Charles in Ray.
Kid(s): daughter Corinne Bishop,14.
Spouse:  N/A
Interesting Tidbit: Jamie Foxx has a popular radio show on Sirius satellite radio
Jamie Foxx was born in Terrell, Texas, to Louise Annette Talley Dixon and stockbroker Darrell Bishop. He was, however, later adopted and raised by his grandmother, Esther Marie (née Nelson), a domestic worker and nursery operator, and his grandfather Mark Talley, a yard worker.Wikepidia. Jamie will star in film The Soloist, to be released in April of 2009.