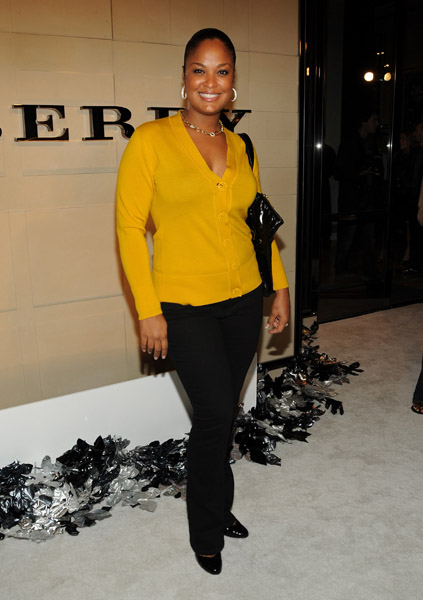 New mom Laila Ali,who is pictured last night in Beverly Hills, wants to get back to her pre-pregnancy shape. The mom of Curtis Muhammad Jr(born August 26th 2008) wants to lose at least 30 pounds!  Below is Laila's workout routine as well as her meal plan:
Monday 1 hour personal training – I do a circuit which consists of fat burning exercises and light weights.
Tuesday 50 minute spinning class
Wednesday 1 hour personal training
Thursday 50 minute spinning class
Friday 1 hour personal training
I try to do some form of fat burning exercise everyday. Starting next month, I am going to incorporate Pilates 2 times a week.This would be a very intense workout schedule for the average person if they had not been working out regularly before they became pregnant. Because I am an athlete, this is what it takes to get my body to respond and see results. In fact, I'm going to step it up soon because I am not seeing the results I want to see yet. I guess I am a little impatient!
Here is an example of a typical day for me, meal-wise:
Breakfast
3 egg whites and 1 egg scrambled, 1/2 cup (uncooked) oatmeal and fruit
2 glasses of water
Snack
1 apple and 1 slice low fat cheese
2 glasses of water
Lunch
green salad with 1 cup of tuna and fruit
2 glasses of water
Snack
10-15 almonds and 2 slices of low sodium smoked turkey meat (Trader Joes)
2 glasses of water
Dinner
Baked chicken breast, 2 cups sauteed green beans and small sweet potato.
Sugar free jello pudding(optional)
2 glasses of water
*1 day out of the week, usually Saturday, I eat whatever I want! I call this my cheat day!